I used to have a subscription to Locus Magazine, which bills itself as "The Magazine of the Science Fiction and Fantasy Field" and is, in fact, the premiere news source for anyone interested in the business/writing end of the speculative fiction field. It was a Christmas gift from my wonderful mother-in-law/drinking buddy (when my wife was pregnant the first time, her mother, who we lived with, valiantly stepped in to keep me from having to drink alone). Anyway, long story short, the subscription expired, and I have yet to pony up the cash for another. And boy, do I miss it.
Luckily, Locus also happens to have a really cool and useful website, so one would think that I could stay up-to-date on who's doing what. Except I forget to check it, and important things slip by me. One of those is the super exciting news that Black Gate has reentered the field with an online fiction offering once a week or so. Let me just say, that is awesome news! Best of luck to John O'Neill and the rest of the crew--I'll be reading.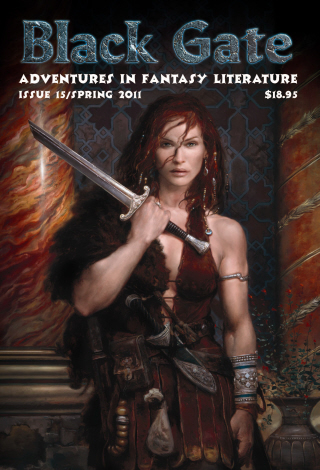 I have loved Black Gate since its inception as a beefy print magazine packed with adventure fantasy, articles, a comic strip, and much more. I have nearly every issue. I even have one really encouraging rejection from John O'Neill from years ago, and I regret not having submitted more to them back then. Black Gate has long been one of the magazines I really want to see my work in, and I even have a quartet of linked stories I started writing with this particular market in mind. The problem is they have been closed to submissions for some time. They have a very active and interesting blog, but the most recent print issue was Spring 2011, and for a while now I have been dreading the announcement that they were closing for good, like so many other good magazines have done (RIP Realms of Fantasy). I've been periodically checking their submissions guidelines for a change, but missed the big news in their blog that they are publishing fiction again. True, they are still closed to submissions, but once the backlog of stories they have already purchased clears, it sounds like they will be reopening.
I guess that means I'd better get cracking on finishing up the quartet (#1 is mostly drafted, #2 is completely drafted, #3 is mostly drafted, while #4 exists only in my mind). Ah, motivation is such a fine thing.
So get on over and check out Black Gate, and take a look at Locus while you're at it. I plan to review Black Gate's first online offering, Jason E. Thummel's "The Duelist," shortly, so be on the lookout for that. Until next time then.